How to Start Your Fireplace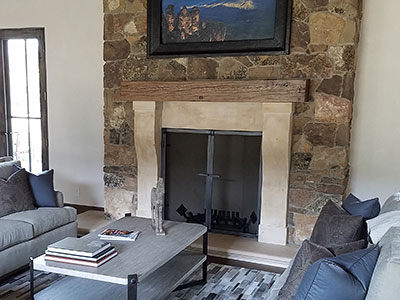 You may hardly believe it but for some, starting fire on a fireplace can be an intimidating idea. But the good thing is that it doesn't really require rocket science to learn how to start your fireplace. This is one life skill that everyone must perfect, especially during winter season when days and nights can become too cold. By mastering the easiest and most effective way to get a fire burning, you can look forward to comfy moments slouched with your loved ones in front of your fireplace.


How to Start Your Fireplace in 4 Easy Steps
Every homeowner should know how to light up a fireplace, particularly one that uses wood as fuel. To make things easy for you, we recommend these four easy steps on how to start your fireplace:


Prepare the right supplies. You would need dry wood, kindling (twigs and sticks will do), used paper/newspaper (don't use glossy or colored pages), match/lighter, screen, iron utensils (poker, tongs, shovel), and ash bucket with lid.
Prep the fireplace up. First, make sure that the ash deposited in the fireplace will be fully removed. Once done, you must prime the flue by lighting a piece of paper and holding it towards the open damper. The fireplace is ready once you felt that the flue is already warmed up.
Light it up. You must first put at least two medium-sized firewood into the grate. Place your tinder in between the wood (the old newspaper or magazine pages will do) and top off with kindling. Make sure that the damper is fully open before lighting up the kindling with a crumpled paper as tinder.
Add firewood as desired. Once you get a good fire started, just add more firewood to keep the fire burning and you and your loved ones, properly warmed. However, make sure that you don't put too much wood than you need.
Important Things to Consider Before Starting a Fire
There are some important things that you must remember before starting a fireplace fire. These are vital to ensure that the fire will be sufficient and to avoid potential fire risk. One is check the fireplace for any flammable object such as clothing, drapes, and magazines. You must also ensure good room ventilation, which you can do by checking of the damper is open to avoid backdraft. Additionally, always use only the right type of tinder – no glossy or colored newspaper or magazine to achieve the best results.


Use the Right Fireplace Accessories
You should also have the right tools and accessories when a starting a fireplace fire. Use high-quality fireplace accessories such as screens, grates, arrestors, toolsets, club fenders, andirons, and wood holders. If you need one, contact us at Stone Manufacturing Company. Our fireplace accessories are all made from the finest raw materials and crafted by our skilled artisans. What's more, they are all priced competitively so you won't have to break your bank just to buy them. By using the right tools and following our proven steps on how to start your fireplace, you will be able to enjoy the warmth that you badly need in just a few minutes.


"MORE ARTICLES"
How to Clean Your Fireplace
How to Maintain Your Fireplace
How to Clean Your Fireplace Flue
How to Clean Your Fireplace Tools