How to Clean your Fireplace Tools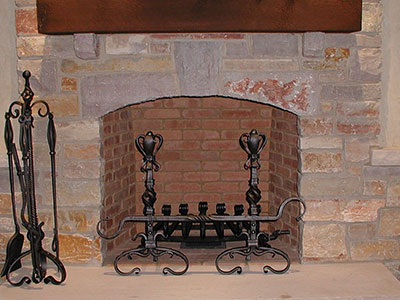 irerplace Tools must be free from dirt, ashes, smoke stain, soot, rusts, and other contaminants that may affect their look and function. Of course, you don't want these tools to be eye-sores in the fireplace area. Your best move is to clean these tools on a regular basis. Just make sure that you follow the right methods on how to clean your fireplace tools. Using inappropriate cleaning solutions may also damage your tools, so you need to be very careful when doing the task.


Proper Way of Cleaning Your Fireplace Tools
Fireplace tools come in different styles, designs, sizes, and finishes. Most of these tools are made from cast iron, brass, and stainless steel, so they are guaranteed durable and long-lasting. However, wear and tear, dirt, stains, and rust may shorten their lifespan. You can extend the usability of your fireplace tools by cleaning them regularly, especially during winter season. You should also follow the right cleaning methods to preserve their original finish and condition.

If you are still looking for effective ways on how to clean your fireplace tools, consider this simple but effective method. Clean the grime or soot from your fireplace tools by using a fine grade steel wool. Dip the steel wool in vegetable oil and rub it gently on the surface. You may also dip it in hot water. After removing the grime, apply a polish to bring back the luster of your tools. To remove corrosion from brass tools, you can try the combination of lemon and salt or hot vinegar and salt. You may also use your garden hose to remove dirt and stain.


Is it Time to Replace Your Fireplace Tools?
Pokers, shovels, brooms, rakes, andirons, tongs, and blow pokes are just some of the commonly used fireplace tools. Since they have specific uses, the maintenance needs of each tool vary. You need to assess the condition of each tool before replacing it with a new one. Is it difficult to remove dirt and stain from your tools using simple cleaning methods? Are they rusting and showing their age? Is it time for a more modern and stylish tool set for your hearth? Do you want to have a new tool set that complements with the new interior décor? If you answered yes to these questions, then buying a new replacement is the best option. You should get your fireplace tools and accessories from reputable manufacturers like us at Stone Manufacturing Company. The products we offer are created by artisans and master craftsmen with decades of experience in the industry. Our fireplace tools and accessories are made from the finest materials, so they are guaranteed durable and require minimal maintenance.


"MORE ARTICLES"
How to Clean Your Fireplace
How to Start Your Fireplace
How to Maintain Your Fireplace
How to Clean Your Fireplace Flue