How to Clean Your Fireplace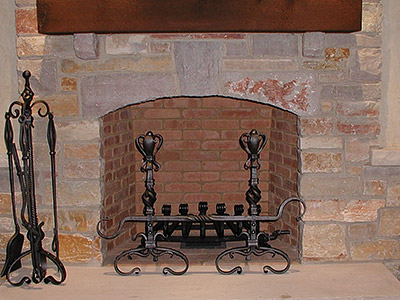 A fireplace is a must-have feature in any home or outdoor space, more so during the winter. Whether it is made of metal, stone, or iron or runs on gas, wood, ethanol, or electricity, regular maintenance must be carried out to keep it functioning flawlessly. No matter how big-name the fireplace brand is, or how well it is custom-built like the ones we create here at Stone Manufacturing Company, time will come when simple neglect could render it beyond repair and become useless. One maintenance task that you should always keep in mind is regular cleaning, and we have just the perfect tips on how to clean your fireplace and keep it in great condition.


Cleaning Your Fireplace
Fireplace cleaning can be an easy task if you know the things to do and how to do them. Here's a quick guide on how to clean your fireplace:


Prepare your cleaning materials. There are cleaning materials that are readily available at the store such as Quick 'N Brite and ammonia, and there are those that you can do DIY-style – cream of tartar and water or equal parts water and vinegar. You should also have spray, small brush, and abrasive tool. Also prepare protective gears like apron, gloves, and face mask.


Protect the surroundings. Make sure that you have placed tarpaulin, plastic, or old newspaper along the floor where the fireplace is located. Remove carpets, furniture, and anything that might be covered with dust or soot during the cleanup.


Start the cleaning process. You may have to remove chipped pavers, wood, and other debris that might hamper your work. Using a vacuum to properly remove small debris might also be required. Once they've been taken care of, begin spraying the area with your choice of cleaner and let it sit for a few minutes. Afterwards, you may proceed with brushing the surface until the fireplace has been fully cleaned up.


Wrap up. Once cleanup is done, fully rinse the area with water and then use towel to dry it out before replacing the inserts, grates, and other accessories.


Using the Right Cleaning Materials and Methods
You can properly and efficiently clean your fireplace if you have the right cleaning materials. It is also important to follow proper cleaning methods. When you follow and institutionalize effective fireplace cleaning methods, you can be sure that the fireplace will look infinitely presentable and remain in use for many more years. Keep in mind that regular cleaning is vital in maintaining the beauty and condition of your fireplace. You should also invest in cleaning materials including vacuum, abrasive tools, brushes, sprays, gloves, aprons, masks, and the like.


DIY Cleaning or Hiring Professionals
Some homeowners are DIY-savvy, so they like to clean their fireplaces on their own. While you may save some dollars by doing so, there are certain setbacks to DIY fireplace cleaning. First is physical exhaustion because you're obligated to do the job without any help. You should also learn how to clean your fireplace systematically. Next is uncertainty about the outcome, more so if you're dealing with stubborn dirt buildup. Lastly, you'll spend many hours going through all the steps when you're better off spending time with your family or taking care of more important business. So given the chance between DIY cleaning and hiring professionals to do the job, we suggest entrusting the matter to people with experience and skills.


"MORE ARTICLES"
How to Start Your Fireplace
How to Maintain Your Fireplace
How to Clean Your Fireplace Flue
How to Clean Your Fireplace Tools